Quantum Optics and Quantum Light with Quantum dOts (QOQLIQO)
Activité scientifique
QOQLIQO explores quantum optics and quantum information processing with semiconductor devices, in particular silicon based integrated photonics and semiconductor quantum dots. Main research lines are: 
Quantum optics with semiconductor quantum dots
Spin qubits
Spin-photon gates
Discrete variable Photonic quantum computing
Resources for quantum communications
Resources for Continuous variable quantum information processing
Quantum thermodynamics
Quantum Nano-phononic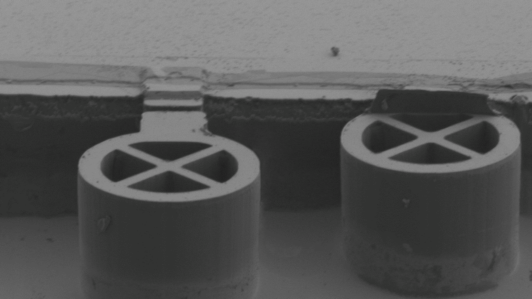 Figure: SEM image of a quantum dot-cavity device used for generating and manipulating quantum light. The technology, developed at the Center for Nanoscience and Nanotechnology has been transferred to the company Quandela. Photo: Sébastien Boissier, 2022.
Responsable de l'équipe : Pascale Senellart
Membres permanents :
Nadia Belabas
Daniel Kimura
Olivier Krebs
Loic Lanco
Pascale Senellart
Laboratoire :
Centre de Nanosciences et de Nanotechnologies (C2N), UPR9001,
10 Boulevard Thomas Gobert
91120 Palaiseau